Certification
 RJC Member Certification
The RJC began full operation of its Member Certification system in December 2009. RJC Member Certification has four important elements:
The Code of Practices:

A set of voluntary standards which lay out the specific requirements of the system;

Auditor Accreditation:

Independent, third party auditors who are accredited as competent to evaluate conformance against the standard;

Independent Verification:

Verification by accredited auditors to provide objective evidence that the requirements of the Code of Practices have been fulfilled;

RJC Certification:

A decision on certification is taken by the RJC according to the results of verification. Certification may be granted for up to three years, after which re-certification will be required.
RJC Member Certification provides evidence of responsible business practices which can be communicated to suppliers, customers and other stakeholders. Each RJC Member's Certification status can be found on the Member page.
Download a RJC Certification Fact Sheet here
Scope of Application
RJC Member Certification is designed to apply to all sectors of the diamond and/or gold jewellery supply chain, from mining through to retail. It is a condition of RJC membership that all Commercial Members undergo the process of obtaining RJC Certification covering all their relevant Facilities.
Beginning in 2010, companies operating in the Platinum Metals jewellery supply chain have been able to join the RJC. The RJC Code of Practices and supporting documents for RJC Member Certification will be reviewed and expanded to formally include Platinum Metals in 2012. Until this review takes place, RJC Member Certification does not cover Platinum Metals.
Timelines for Certification
Current RJC Members may begin the Self-Assessments at any time, in preparation for third party auditing.
Current RJC Members as of 31st December 2009 are required to undergo independent verification by December 2011, or December 2012 if they have Mining Facilities.
Companies that join the RJC from 1 January 2010 are required to undergo independent verification within two years of becoming Members.
RJC Commercial Member Certification Deadline – Extension Policy
To allow for situations where Members could not meet their certification deadlines due to extenuating circumstances, such as where issues have been encountered preventing the timely scheduling of audits, the RJC has developed an Extension Policy. The Extension Policy has strict criteria in place and is assessed on a case-by-case basis. As the RJC does not see Self Assessments, any application for a short extension to the deadline requires the support of the Member's chosen RJC Accredited Auditor. Extension Request Forms can be lodged by Members to the RJC within 3 months prior to, and no later than 2 weeks prior to, their Certification Deadline.
If an extension is granted the Member's listing the RJC's website will state " Extension granted to achieve Certification by [date]." If certification is not achieved by the expiry of the extension period, RJC disciplinary proceedings will commence with possible consequences for the company's continued RJC Membership.
For more information, please contact Anna Leach, RJC's Administration Manager, anna.leach@responsiblejewellery.com
Core System for RJC Member Certification
The Core System Documents are the essential documents that have been developed to enable Members and Auditors to understand and implement the RJC Member Certification system. They have been designed to accommodate the diverse sizes and types of organisational structures which make up the RJC membership. Extensive multi-stakeholder consultation with participants and stakeholders in the jewellery supply chain has underpinned their development.
Members and Auditors should download these materials to enable their implementation of the RJC Member Certification system. The RJC makes these documents publicly available in the interests of transparency and welcomes feedback as part of its commitment to continual improvement. Revisions to the documents will be posted to this webpage.
The RJC Core System Documents are categorised according to the following hierarchy, and a version of this icon appears on the cover of each formally issued RJC document:.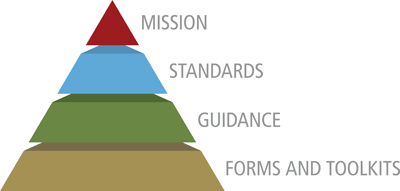 Core System Documents – 2009 Versions
In December 2009, the outcomes of the Mining Supplement process were incorporated into the RJC Core System Documents. These revisions were developed through a multi-stakeholder engagement process with Members and stakeholders, over 18 months from May 2008 to November 2009. In addition to 3 public comment periods, a Consultative Panel comprising 15 external stakeholders worked closely with the Standards Committee during June to October 2009. The revisions were approved by the RJC Board on 27 November, 2009. They were publicly released on 17 December, 2009 and are effective from that date.
2009 Documents: Download the latest versions of the Core System Documents by clicking here
Definitions
The Council uses the following key terms:
Jewellery: an adornment made of precious metals (including gold) and set with gem stones (including diamonds). Jewellery includes, but is not limited to, bracelets, rings, necklaces and watches.
Gold: a rare yellow metallic element with the chemical symbol "Au". It is a mineral with specific hardness of 2.5-3 on the Mohs scale of hardness and the atomic number 79. Gold purity is measured by karat: one karat being 1/24th part by weight of pure gold.
Diamond: a natural mineral consisting essentially of pure carbon crystallised with a cubic structure in the isometric system. Its hardness on the Mohs scale is 10; its specific gravity is approximately 3.52; it has a refractive index of approximately 2.42 and it can be found in many colours.
Laboratory-grown/Synthetic diamond: any object or product that has been either partially or wholly crystallised or re-crystallised due to human intervention such that it meets the requirements specified in the definition of Diamond, with the exception of being non-natural.
Platinum Metals: Precious metallic elements, also known as the Platinum Group, that have similar physical and chemical properties and tend to occur together in the same mineral deposits. Platinum Metals within the scope of the RJC are:

Rhodium: chemical symbol 'Rh', Mohs hardness 6, atomic number 45;
Palladium: chemical symbol 'Pd', Mohs hardness 5, atomic number 46;
Platinum: chemical symbol 'Pt', Mohs hardness 4-4.5, atomic number 78.
Note: The Scope of the RJC Member Certification System includes Gold and Diamonds and Laboratory-grown diamonds. Platinum Metals will be formally added during the review of the RJC standards in 2012.