Collaboration and Engagement
Voluntary standards and certification are increasingly important tools for businesses operating in complex supply chains.  There is an increasing appetite on the part of governments and international institutions to use standards as vehicles to achieve policy objectives, and growing demand for standards as tools to address emerging challenges.  The RJC works with a wide range of stakeholders to promote responsible business practices and to support harmonization between related initiatives.
United Nations Global Compact:
RJC registered as a Global Compact Participant in January 2009 and has embedded the Global Compact's ten principles in the RJC Code of Practices.  Through the RJC's engagement with the jewellery supply chain, and its stakeholders, we further the mission of the Global Compact as part of our shared commitment to improve business practices in the areas of human rights, labour and social responsibility, environment and anti-corruption.
http://www.unglobalcompact.org/participant/7979-Responsible-Jewellery-Council
Standards Map: 
Standards Map is an initiative of the Trade 4 Sustainable Development (T4SD) Project of the International Trade Centre.  Standards Map is a partnership-based effort to enhance transparency on voluntary standards and to increase opportunities for sustainable production and trade, particularly from developing countries.  RJC was one of the first tranche of standards to be included in Standards Map when the web-based tool went live in January 2011.
http://www.standardsmap.org/en/
Organisation for Economic Cooperation and Development (OECD):
RJC participated actively during 2011-2012 in the multi-stakeholder development of a Gold Supplement to the OECD Due Diligence Guidance, which will be released in 2012.  The OECD Due Diligence Guidance for Responsible Supply Chains of Minerals from Conflict-Affected and High-Risk Areas provides management recommendations for global responsible supply chains of minerals to help companies to respect human rights and avoid contributing to conflict through their mineral or metal purchasing decisions and practices. RJC aims to support implementation of the OECD Guidance via its Chain-of-Custody Standard and through provision of training to the jewellery supply chain.
Download PDF – RJC Overview of the OECD Due Diligence Guidance for the Jewellery Supply Chain (June 2012)
Global Social Compliance Programme
The Global Social Compliance Programme is a business-driven programme for the continuous improvement of working and environmental conditions in global supply chains. The GSCP provides a global cross-industry platform to promote the exchange of knowledge and best practices in order to build comparability and transparency between existing social compliance and environmental compliance systems.
RJC is reviewing the GSCP Equivalence Process to identify opportunities for standards alignment in the 2012 Code of Practices Review;  and intends to undergo the Equivalence Process in 2013.
Solidaridad
RJC and non-profit organization Solidaridad have announced that they will collaborate on activities that support their shared goal of ensuring better, more transparent and accountable practices throughout the gold supply chain. This includes joining forces to encourage broader participation in RJC by companies in the Global South. A key focus will be Solidaridad's new pilot project that uses RJC's Code of Practices and Chain-of-Custody standard as tools for improving practices at industrial gold mines. In addition, the collaboration aims to develop case studies, stakeholder presentations and evaluations that can strengthen uptake and impact of the RJC standards.
To review the news release, please Click here
Memoranda of Understanding:
Italian Ministry of Economic Development and Confindustria Federorafi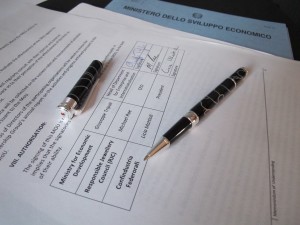 "Our Ministry of Economic Development has a strong commitment to cooperate with all organizations – such as the prestigious RJC and Federorafi –in order to disseminate OECD guidelines on responsible business conduct in the Italian jewellery supply chain. I hope that this memorandum will strengthen a shared culture of corporate social responsibility, contributing to awareness raising on ethical jewellery." Dr Tripoli, Head of the Department for Enterprise and internationalization.
"This cooperation with the Ministry of Economic Development and RJC represents a pivotal step for the Italian jewellery industry. The Italian jewellery sector is still a leading player worldwide but now experiencing a difficult financial time in exports. Italian savoir-faire, creativity and jewellery expertise no longer suffice, we now need to commit to responsible business practices and grant the source, the quality and integrity of our jewellery products, offering a more competitive tool to our industry. I am confident that a strong liaison with the Italian Ministry of Economic Development and the international RJC will lead to a very positive synergy and outcome." Licia Mattioli, President, Confindustria Federorafi.
To review the news release on the MoU Agreement  please click here to review the Italian version please click here
To review the news release in Italian about the online Questionnaire from the Ministry please click here
Alliance for Responsible Mining
"ARM believes that strengthening its relationship with the RJC is a key step in building strong collaboration with the industry to jointly embrace the developmental opportunities of ASM. We hope to see more and more ASM communities realize their potential of becoming profitable, socially and environmentally responsible enterprises that participate in global markets and contribute to local development." Lina Villa, Executive Director, Alliance for Responsible Mining.
To review the news release on the MoU please click here
The RJC and the Alliance for Responsible Mining (ARM) invite you to be part of a positive transformation in artisanal and small-scale mining (ASM). In the next three years ARM seeks to benefit 300,000 miners and their dependants through formalisation processes and through the adoption of the Fairtrade and Fairmined (FT&FM) Standard for ASM gold and associated metals. For more information Click here
To make a donation to ARM's Producer Support Fund - Click here
Diamond Development Initiative International:
"Worldwide, some 1.5 million individuals are artisanal diamond miners. They and their families will benefit from the improved working conditions and standards that are DDI's objectives, objectives that will be enhanced by our collaboration with the Responsible Jewellery Council." Dorothée Gizenga, Executive Director, Diamond Development Initiative International.
To review the news release please click here
At the RJC's 2012 Annual General Meeting the RJC acknowledged Dr Matt Runci, who will retire from the role of founding RJC Chairman in December 2012. In recognition of Dr Runci's outstanding leadership in the formation, development and current success of the RJC, as well as his overall service to the jewellery industry, RJC has invited its Members to donate funds to the Diamond Development Initiative International (DDI International). Dr Runci serves as Secretary and as a Member of the Board of Directors of DDI.
Click here for a copy of the donation form.
Social Accountability International
"SAI is very happy to be entering into a MOU with the RJC. Both organizations share the goal of improving working conditions and labour standards throughout the world. We believe that collaboration with RJC will scale up our impact in the jewellery supply chain." Alice Tepper Marlin, President, Social Accountability International.
To review the news release please click here