Monitoring & Evaluation
RJC's Monitoring & Evaluation (M&E) program focuses on the certification program for the Code of Practices (COP), the mandatory standard for RJC Members active in the diamond, gold and platinum group metals (platinum,  palladium and rhodium) supply chain, as well as the Chain-of-Custody (CoC) Standard, which is a voluntary standard for RJC Members applicable to precious metals.
RJC's M&E program is where we can evaluate whether our intended changes are happening, and where our strategies need adjusting or additional focus.  The objectives of the RJC M&E program are to collect data, analysis and research that can be used to:
Analyse trends, successes and challenges;
Reflect on and adjust RJC's broad strategies and priorities;
Improve the RJC's programs and their effectiveness in achieving the desired impacts;
Understand and support the roles played by all stakeholders in improving practices;
Enhance capacity in RJC, Members, Auditors and stakeholders by learning from experience.
Long-term goals and Desired Impacts
The long term goals and desired impacts are set out by the RJC Mission and RJC's Theory of Change, as set out below.
RJC Vision
Our vision is a responsible world-wide supply chain that promotes trust in the global fine jewellery and watch industry.
RJC Mission
We strive to be the recognized standards and certification organization for supply chain integrity and sustainability in the global fine jewellery and watch industry.
RJC Theory of Change
The RJC's intended change is defined in the visual representation of RJC's Theory of Change.  Three key Strategies of capacity building, robust standards and certification tools, and support for supply chain initiatives are designed to set the foundation for the consequent flow of Outputs, Outcomes and Desired Impacts.  The three Desired Impacts are:
The global fine jewellery and watch industry respects human rights, the environment and stakeholder expectations
Supply chains build commitment to, and reward, responsible practices
Business customers and consumers have confidence and trust in diamond, gold and platinum group metals products.
Within the Theory of Change, RJC's three Desired Outcomes have been used to set the framework for indicator development and data collection and include measurable metrics of both outputs and outcomes.  Please download the list of RJC Indicators.
RJC sought feedback on its  RJC Theory of Change draft through consultation with the Standards Committee and a public consultation period from February until May 2014.
Feedback and comments on the current RJC Theory of Change are still welcome and can be emailed to: consultation@responsiblejewellery.com.
RJC Impacts Reports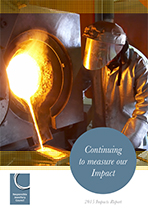 RJC has published its second Impacts Report in December 2015.  RJC has spent the past year analysing membership and audit data, commissioning research, and collaborating with others to understand our impact on members, their employees, customers, and communities, and the jewellery industry at large. The data and analysis presented in this report will help RJC continue to improve its standards and certification processes, expand and deepen training, identify new opportunities and collaborations, and design innovative tools and programs to better serve RJC members.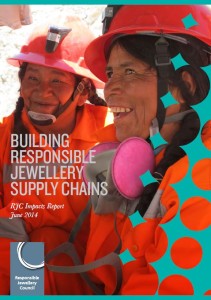 RJC has published its first Impacts Report!  In this exciting report, RJC reviews the first four years of RJC's Certification programs during 2010 to 2013.  Drawing on audit data, collaboration reports and independent studies, RJC provides a snapshot of its mine to retail activities in the jewellery supply chain.  We examine progress to date and also review the challenges still ahead.
Impact Evaluation
Since RJC covers so many sectors, this first Impacts Report has focussed on three highly topical areas:  the gold mining sector, with case studies in Latin America; the diamond cutting and polishing sector in India, where 11 out of 12 of the world's diamonds are cut and polished; and small-to-medium enterprises (SMEs), with annual turnover of US$50 million or less, which make up around 60% of RJC's Membership.
RJC commissioned Dalberg Global Development Advisors to conduct an independent impact evaluation to look at the uptake and impact of the RJC Certification scheme in the diamond cutting and polishing sector in India.  The assessment highlights that RJC's standards are strongly aligned to key risks, and is helping to instil and highlight best practices.  Feedback on the report is welcome and can be emailed to: consultation@responsiblejewellery.com
The report can be downloaded here.
In December 2014, a team of 3 postgraduate students from the Graduate Institute of Geneva have completed a study on Small to Medium-Sized Enterprises (SMEs) on the uptake, access and impact of Certification in the jewellery supply chain.  The study was sponsored by Compagnie Financiere Richemont SA, and co-supervised by RJC.  The final report can be downloaded here.  RJC greatly values the research and it will provide valuable input into the 2015 Impacts Report, as well as for RJC's internal planning for guidance development, the Topic Expert program and other peer learning opportunities.
RJC M&E System Reports
RJC's M&E program began development in 2010, and RJC continues to take steps to expand, improve and mature the program.  Our annual public systems reports aims to provide an overview into the design and operation of RJC's M&E system, as well as further plans for increasing understanding of RJC's long-term impacts: