Monitoring & Evaluation
To understand the effectiveness and the impact of our work within the jewellery supply chain, we have established a monitoring and evaluation (M&E) programme which consists of four key elements:
Theory of change – a public statement of our desired impacts and how our activities are contributing to the achievement of these over time.
Performance monitoring system – a systematic data collection process to enable analysis of data collected from all members throughout their membership and certification journey. Trends in data over time is tracked and analysed to help us understand whether our activities are resulting in desired short term outcomes outlined in our Theory of Change.

Periodic evaluations – an in-depth analysis into particular parts of the supply chain and specific issues covered by our standards to try and draw conclusions about our contribution to the longer term impacts defined in our Theory of Change.

Communication of the results of the M&E system – internal and external reporting on the results of data collection processes and in-depth analysis for transparency purposes and to facilitate learning and trigger adjustments to RJCs activities to improve their effectiveness in achieving the desired impacts.
Our desired impact
The long term goals and desired impacts are set out by the RJC Mission and RJC's Theory of Change:
RJC Vision
Our vision is a responsible world-wide supply chain that promotes trust in the global fine jewellery and watch industry.
RJC Mission
To be the recognised standards and certification organisation for supply chain integrity and sustainability in the global fine jewellery and watch industry.
 

The RJC's intended change is defined in our Theory of Change. Three key strategies of capacity building, robust standards and certification tools, and support for supply chain initiatives are designed to set the foundation for the consequent flow of Outputs, Outcomes and Desired Impacts.  Our three desired impacts are:
The global fine jewellery and watch industry respects human rights, the environment and stakeholder expectations
Supply chains build commitment to, and reward responsible practices
Business customers and consumers have confidence and trust in diamond, gold and platinum group metals products.
M&E system reports
Our annual public systems reports aims to provide an overview into the design and operation of RJC's M&E system:
Performance Monitoring
RJC has a systematic process for collecting and analysing data from all members throughout their membership and certification journey. A list of performance indicators currently collected can be downloaded here. This analysis enables us to identify and track trends in performance over time to help us understand whether our activities are resulting in desired short term outcomes outlined in our Theory of Change and what improvements can be made to the RJC system and the M&E system.  The key performance indicators collected are reported publicly in our Annual Progress Reports in an aggregated format.
Reporting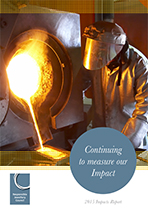 RJC published its first Impacts Report in 2014, which reviewed the first four years of RJC's certification (2010 to 2013).  Drawing on audit data, collaboration reports and independent studies, it provided a snapshot of its mine to retail activities in the jewellery supply chain. A second Impacts Report was published a year later in December 2015, which analysed the past year's membership and audit data and research commissioned to understand our impact on members, their employees, customers, and communities, and the jewellery industry at large. Since 2016, RJC has opted to publish one single external report and has been publishing performance data arising from its M&E system in its Annual Progress Reports rather than in a separate impacts report.
Data and analysis presented in these reports have contributed to the evolution of the standards and certification processes, helped to expand and deepen member and auditor training, identify new opportunities and collaborations, and the development of tools and programs to better serve RJC members.
Impact Evaluation
RJC aims to undertake regular in-depth evaluations to try and draw conclusions on whether our activities are successfully contributing to the achievement of the longer term outcomes and impacts defined in our Theory of Change. Given the breadth of RJC membership in terms of materials and supply chain coverage, the scope and focus of in-depth evaluations are determined on a strategic basis.
The first outcome evaluation RJC underwent focused on small-to-medium enterprises (SMEs), with annual turnover of US$50 million or less, which make up around 60% of RJC's membership. In December 2014, a team of 3 postgraduate students from the Graduate Institute of Geneva have completed a study on small to medium-sized enterprises (SMEs) on the uptake, access and impact of Certification in the jewellery supply chain.  The study was sponsored by Compagnie Financiere Richemont SA, and co-supervised by RJC.  The research has provide valuable input into the 2015 Impacts Report, as well as for RJC's internal planning for guidance development and the Topic Expert program. The final report can be downloaded here.
The diamond cutting and polishing sector in India is key to the jewellery supply chain, as 9 out of 10 of the world's diamonds are cut and polished there. In recognition of this important sector, RJC commissioned Dalberg Global Development Advisors to conduct an independent impact evaluation in 2014 to look at the uptake and impact of the RJC Certification scheme in the diamond cutting and polishing sector in India.  The assessment highlights that RJC's standards are strongly aligned to key risks, and is helping to instil and highlight best practices. The report can be downloaded here. A follow up study in India was commissioned by RJC in 2015. The executive summary of the work conducted by independent consultancy Stratwon can be downloaded here.
An in-house RJC member survey was conducted by the RJC management in 2015 to better understand the level of interest and demand for RJC certification in the industry and what members are doing to stimulate further uptake in the industry. The results were reported in the 2015 Impacts Report. RJC has been developing a member toolkit of marketing and promotional collateral, to support members in communicating with the industry and their business partners about their RJC certification, to stimulate further demand for RJC certification. This will be launched at the 2018 AGM in Moscow.
Artisanal and small scale mining (ASM) organisations are a critical part of the jewellery supply chain, both in terms of livelihood and development opportunities, as well as the need to manage key risks. In 2016, RJC certified member Minera Yanaquihua S.A.C. based in Peru, was subject to an evaluation on the impact of RJC certification by the Centre for Social Responsibility in Mining (CSRM) at The University of Queensland. A site visit was undertaken be the researchers in 2015 to collect primary data (documents and observations) and to conduct face-to-face interviews and meetings with stakeholders internal and external to the member. The full report can be downloaded here, and the key findings were:
RJC's requirements to implement programs to improve practices and reduce social and environmental risks on ASM are important to improve the work conditions and human rights of local artisanal miners and to minimise the environmental impacts of these artisanal miners.
RJC's requirements to participate in initiatives that enable the professionalism and formalisation of ASM have a positive impact not only on the formalisation of these artisanal miners but on their livelihoods, practices and productivity.
RJC's requirements to support the development of the local community through backing community initiatives such as local procurement had a positive impact delivering economic and social improvements.
Women empowerment is a positive side effect of the livelihood improvements obtained through the company's approach to engage and work with women artisanal miners and the initiatives to foster local development.
This evaluation has been running in tandem with another independent evaluation of Minera Yanaquihua S.A.C., being led by Solidaridad to measure the impacts from RJC Certification at the company, as well as (ASM) miners on the concession.  In 2015, Solidaridad and RJC contracted Avance, a Dutch-based consultancy specialised in evaluations, to perform a retroactive baseline and midterm evaluation of progress, with the results available in 2017. Some of the initial member benefits of the certification journey so far were reported in the 2015 Impacts Report.
RJC recently participated in a collaborative project funded by ISEAL, to develop a robust and cost-effective research design and methodology for conducting an evaluation to evaluate the business benefits of RJC certification for members. In the second half of 2017, RJC aims to pilot the methodology, focusing the evaluation on the jewellery wholesalers and manufacturing forum, where we have the greatest concentration of members and where membership is primarily driven by business partners. 
RJC endeavours to make public the outcomes of its in-depth evaluation, by publishing either the full or summary reports.
Public consultation
RJC is not currently undertaking public consultation on the design of its M&E system. Future opportunities will be posted here and RJC stakeholders notified via the newsletter and targeted communication campaigns.
Feedback
RJC welcomes feedback and comments from stakeholders on its M&E system, Theory of Change, in-depth evaluations and reporting. Please submit any comments to consultation@responsiblejewellery.com