Shaping a Sustainable Future
RJC is the world's leading standard-setting organisation for the entire jewellery and watch industry.
Search the RJC Member Register
Our members are helping to transform supply chains to be more responsible and sustainable – catalysing partnerships, underpinning trust in the global jewellery and watch industry and securing a future that can be treasured for generations to come.
Interesting things are happening in Responsible Jewellery
Stay informed and involved with all the latest news, events and global coverage.
Industry Event
Join Iris Van der Veken, Executive Director at Responsible Minerals 2020 with Responsible Business Alliance to discuss enhanced efforts around transparency and progressive Due Diligence in the gold sector to support responsible sourcing of gold.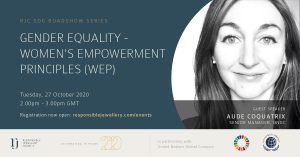 RJC Event
RJC members have a crucial role to play in accelerating gender equality throughout the entire watch and jewellery global supply chain. Join us and guest speaker, Aude Coquatrix, Senior Manager at UN Global Compact, as we explore a set of business tools designed to provide practical guidance on implementation and benchmark your organisation's progress towards achieving a gender-balanced workplace.
Subscribe To Our newsletter
Get the latest
news & Events
Your pathway to a sustainable business
RJC is the only ISEAL Full Member for sustainable standards and practices in the jewellery industry. Our Code of Practices standard aligns with the 17 SDGs and the Ten Principles of the UN Global Compact. There are two RJC certification programs available for members.
Another proud year of progress
Our seventh progress report provides an overview of our commitments and practices, and outlines the main areas of focus in our vision for the future.
1,256 members – grown from 14 founding members – across 71 countries.
888 members have achieved Code of Practices Certification.
101 members have achieved Chain of Custody Certification.
As the corona virus sweeps the globe, affecting the health and lives of millions, the pandemic is wreaking further economic havoc on the lives of artisanal, small scale miners and their communities. Around 83 per cent of the world's mining workforce relies on these mines for their livelihood. That comes to roughly 40.5 million people. These people were vulnerable before the corona pandemic and even more so now.
We – the undersigned global civil society organizations and community-based associations – are calling for immediate and concerted action from governments, financing institutions, international organizations, private sector actors and others to support artisanal mining communities and to shore up their resilience in this time of corona virus crisis.
Wherever you are on your sustainability journey, RJC can support you
Whatever the size of your business and wherever you are in the value chain we want your voice to be heard. As a not-for-profit organisation our scalable membership options are designed to be relevant and affordable for every business – large or small.
We're a team diverse in expertise and united by a shared vision – that one day all jewellery will be responsible jewellery.