The year 2020, marking the twenty-fifth anniversary of the Beijing Platform for Action, was intended to be ground-breaking for gender equality. Instead, with the spread of the COVID-19 pandemic even the limited gains made in the past decades are at risk of being rolled back. The pandemics deepening pre-existing inequalities, exposing vulnerabilities in social, political and economic systems which are in turn amplifying the impacts of the pandemic. Across every sphere, from health to the economy, security to social protection, the impacts of COVID-19 are exacerbated for women and girls simply by virtue of their sex. (Source: UN Policy Brief – The Impact of COVID-19 on Women)
RJC believes all stakeholders have a shared responsibility to create more empowerment opportunities for women as gender equality cannot be achieved when women do not have the resources needed to empower themselves.
We are actively involved in promoting women empowerment as part of our commitment to the UN's Sustainable Development goals (SDGs).
SDG 5 gender equality is integral to all dimensions of inclusive and sustainable development. In short, all of the SDGs depend on the achievement of SDG 5.
Find out how we regularly get involved in promoting awareness and generating meaningful change for women and girls at all levels of the jewellery supply chain
SDG 5 Leadership Roundtable
RJC is launching a number of round tables on this topic to understand better how we can support the implementation of SDG 5 in the jewellery and watch industry
If you are interested in more information, please contact:
generationequality@responsiblejewellery.com
RJC has integrated a gender lens to various provisions – some which more intuitively or directly address gender equality (such as non-discrimination, or the suggestions we have put forward for community development) and others that may not be necessarily so obvious as to why women are in more vulnerable situations, such as working hours, where we call out the right to paid maternity leave and flexible working hours and arrangements. We aim to create a business environment where all women are considered equal, setting standards for what equality should look like in the industry. The RJC Code of Practices show how RJC COP provisions are mapped to the SDGs, including SDG 5.
We are firmly committed to measurable action. Our report provides clear findings on the progress made by RJC and its 1,300 members organisations across global markets. We drive continuous improvement through promotion and practical guidance for organisations worldwide on how to integrate responsible business practices directly related to Agenda 2030, the SDGs and specifically SDG 5 Gender Equality.
Commitment to the UN's Women Empowerment Principles
RJC has signed the UN's Women's Empowerment Principles (WEPs) as part of its commitment to promoting gender equality and women empowerment in the workplace, marketplace and community. The WEPs are underpinned by international labour standards and human rights, as well as the recognition that all organisations have an important role to play.
Gender Equality in Artisanal Small-scale Mining (ASM)
Artisanal and small-scale miners are a vital part of the global jewellery and watch industry. Approximately 42 million people are engaged in ASM around the world, 30% of which are women. But women in ASM are often confined to the low paying jobs and are absent from decision-making. They disproportionately face discrimination and gendered violence and too often lack access to financing and resources.
This is a complex issue and sometimes, well-intentioned programmes can have the opposite effect.
How can we make sure ASM-related initiatives meaningfully help women and gender equality?
IMPACT has published the first ever Gender Impact Assessment to be tailored specifically for the ASM sector. It has been developed over the course of IMPACT's work in Democratic Republic of Congo and Uganda and includes strategic tools to support teams who create projects and policies to improve experiences and outcomes in the ASM sector.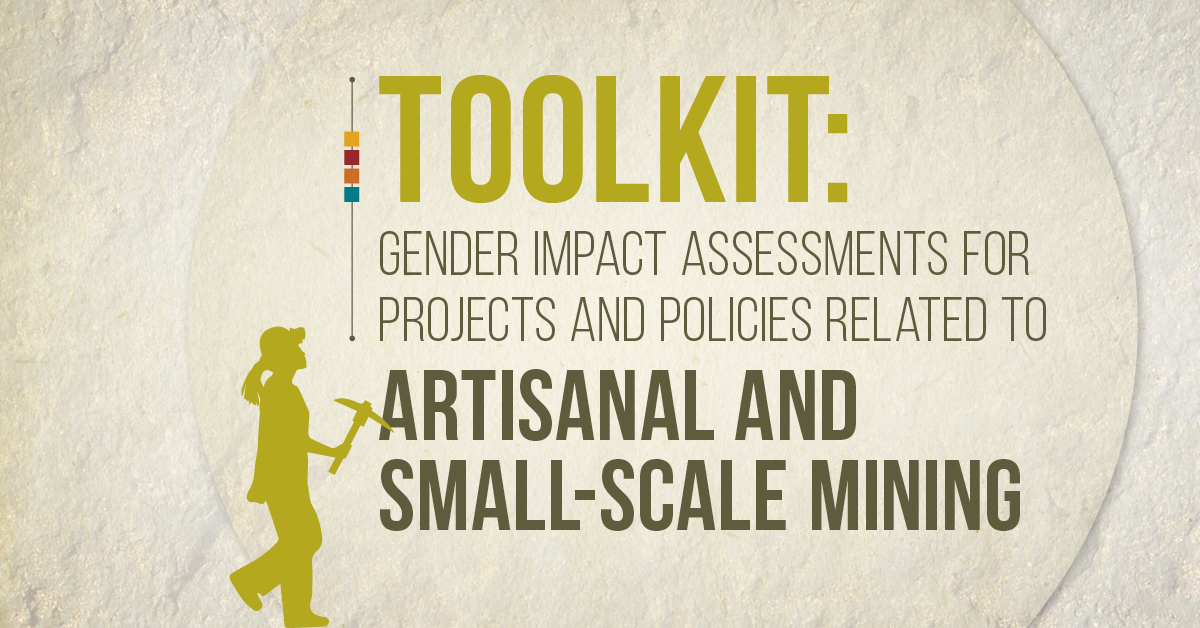 The toolkit offers 14 strategic tools, including a Gender Impact Matrix and Gender Equality Continuum, and details seven key steps—from data collection to power mapping—to achieving a comprehensive Gender Impact Assessment for ASM-related initiatives.

The full spectrum of the GIA Toolkit's application includes ASM-related programs, processes, policies, legislation, laws, interventions, and regulations. Potential users would include civil society, philanthropists, government departments/agencies, and the private sector.
Webinars, Events and Newsletters
The RJC hosts a monthly series of SDG-related events, of which SDG 5 Gender Equality has featured twice in collaboration with the UN Global Compact.
Watch the video replays here:
Informational Newsletters
The Gender equality special edition RJC newsletter was shared with over 4,500 stakeholders to promote the role all businesses can play in achieving gender equality. We encourage our members to sign up to the WEPs. View the newsletters here for more information on how to get involved:
All businesses have a role to play in pushing forward SDG 5 Gender Equality. The time to act is now.
Contact us at generationequality@responsiblejewellery.com