2017 Chain of Custody (CoC)
The CoC Standard aims to support claims for responsible sourced jewellery materials (known as CoC material), produced, processed and traded through the supply chain. The standard requires companies to have a policy and risk management frameworks for conflict sensitive sourcing practices, drawing on the OECD Due Diligence Guidance for Responsible Supply Chains of Minerals from Conflict Affected and High-Risk Areas. It also sets our requirements for confirming the eligibility of CoC materials and its segregation and transfer.
Timelines for auditing the 2017 CoC:
IMPORTANT UPDATE - 1 JANUARY 2019!
Please note from 1 January 2019, members will no longer be able to be audited against the 2012 Chain of Custody (CoC). Please watch the short video below for more information.
Below you'll find the documents, support tools and training to help you comply with the 2017 CoC standard:
2017 CoC documents
Self-assessment
Audit Cycle
Training
Other languages
Principles on ​re-certification validity dates:
All Certificates become active from the date of receipt of the audit report by the RJC management team. When audit reports are not sent in a timely manner, this can result in gaps between subsequent Certificates. In response to this, the guiding principles below have been agreed by the RJC Board, which have been designed to encourage that member​s' certifications remain continuous​ during re-certification.
Gap in CoC certification
Please note: if there's a gap in CoC certification, the member will not be able to sell any material as CoC material until the re-certification has been complete. This may entail stockpiling CoC eligible material to sell as CoC material only when re-certified.
To facilitate audit reports are received by the RJC on time, we encourage members to schedule their re-certification audits a few months in advance of when the audit is required to ensure auditor availability, and to review and approve draft audit reports provided by the auditor in a timely manner.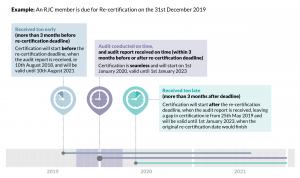 In accordance with RJC values, these guiding principles will be applied on a case by case basis by the RJC Management team to ensure fairness and the integrity of the RJC Certification system.
Please email training@responsiblejewellery.com in case you have any questions or see the Contact Us page for other contact details.