Photo (top): Meet the Maqque family, an artisanal gold mining family living in remote La Isla in Madre de Dios, Peru. La Isla has suffered so much deforestation due to gold mining that it looks like an island in the middle of the rainforest, hence the name. The Maqque family requested mercury-free gold mining training from Pure Earth after they heard about similar workshops in Peru. (Photo credit: Pure Earth)
authors: Jen Marraccino, Senior Development Director at Pure Earth & Magdalene Sim, Director, communications at pure earth
Gold, one of the world's most precious resources, has imparted beauty and value, and sustained livelihoods for generations. But have you ever wondered how the way gold is mined impacts the health of people and the planet? International nonprofit Pure Earth is working with RJC member Brilliant Earth and others in the jewelry industry to raise awareness about gold's connection to global mercury pollution and deforestation, and to implement solutions that are saving lives, protecting livelihoods, and restoring the environment.
About a quarter of the world's gold comes from artisanal and small-scale gold mining (ASGM). According to the U.S. Environmental Protection Agency, ASGM is the world's largest source of global mercury emissions, releasing almost twice as much mercury as coal combustion, the second largest source.
It may come as a surprise to many that the gold in their jewelry and electronics could be linked to one of the world's top toxic threats. Mercury released by ASGM travels, dropping into oceans and rivers worldwide, poisoning the seafood we all eat. When a pregnant woman consumes contaminated fish, their developing fetus is also exposed to toxic mercury, which interferes with its neurological development. While infants and children are overwhelmingly affected by mercury, everyone everywhere is impacted when gold is mined with mercury.
"This is why we believe the jewelry industry holds the key to solving this global threat. For the past 20 years, Pure Earth has worked to reduce the global mercury threat by training miners worldwide to go mercury-free, but our efforts can only scale up and be sustainable if responsible jewelers step in to help support, raise awareness and create demand for mercury-free gold mining. This will encourage more miners to change the way they mine, and fuel the transformation of both the gold mining and the jewelry industry," explains Pure Earth President Richard Fuller.
"Recently, our work has expanded to include reforestation to restore land damaged by gold mining, and efforts to test a mine to market solution that connects mercury-free artisanal miners to the industry. Together–working with partners such as the Alliance for Responsible Mining, Center for Amazonian Scientific Innovation (CINCIA), as well as with responsible jewelers–we have already been able to demonstrate that sustainable, affordable, mercury-free technologies exist to increase the production of responsible gold that does not poison our children, does not contaminate our precious natural resources, and is safe for artisanal miners and their families who do much of the hard work to get the gold into our hands."
Dancing Cat Fever
Mercury is an elusive toxin. It transforms as it travels, polluting the air, ground, and water. It is so elusive that it has been quietly poisoning people for centuries.
The term "mad hatter" was thought to have originated in the 18th and 19th centuries, when hat makers were unknowingly poisoning themselves with mercury they used to process furs into pelts. It was only in the 1950s that the world found out about the terrible impacts of mercury poisoning on a mass scale.
A chemical plant in a village in Japan was releasing wastewater contaminated with mercury into the environment, which poisoned and killed animals and residents for decades before it was identified. Initially known as "dancing cat fever" because of the impact it had on the village's cats, the disease was soon named after the village: Minamata. A movie of the same name starring Johnny Depp was released in 2020 about American photographer Eugene Smith, whose photos of the affliction made visible the awful impacts of mercury poisoning to a modern audience for the first time.
While we all know much more about mercury today, many of us are still unaware of its connection to gold mining. Around the world, many artisanal and small-scale miners use mercury to help them extract small bits of gold, sometimes from mining waste left behind by large mining companies. ASGM is an important livelihood for an estimated 15 million people in at least 80 countries who earn a living this way, and a further 100 million people who depend on the sector for their livelihood. Women make up as much as a third of the global ASGM workforce. Artisanal miners, their families and communities risk their health and the environment to do their jobs, but it doesn't have to be this way.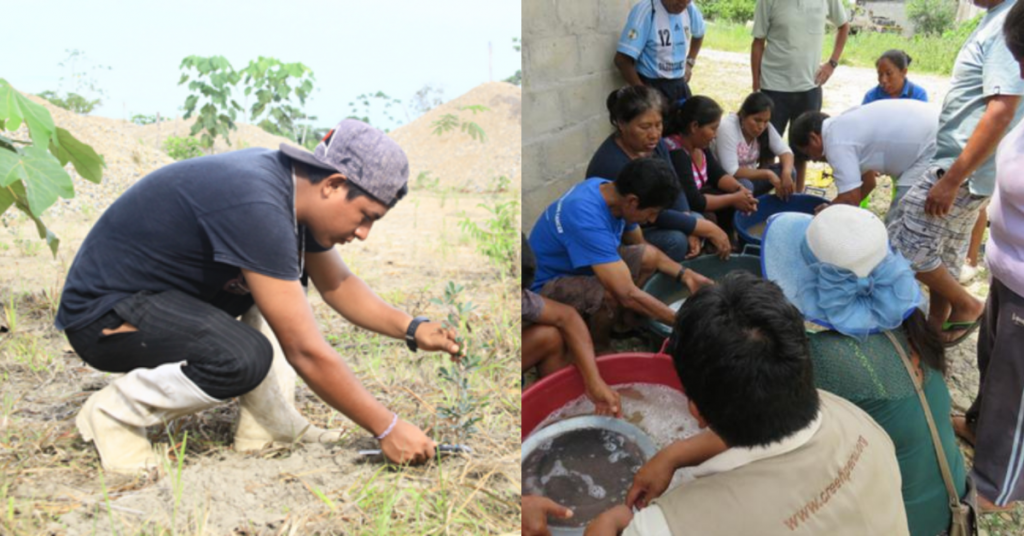 Photo 1 (left): A seedling being planted during a reforestation project. To date, Pure Earth has helped miners restore 10 hectares of rainforest damaged by gold mining.
Photo 2 (right): Pure Earth mercury-free training for the Chichiqueros.
Transforming the industry
It all begins with a simple question. Where does my gold come from? Over the years, when responsible jewelers ask and discover the answer to this crucial question, they usually begin looking for a better alternative. Brilliant Earth found it working with Pure Earth to transition the Chichiqueros ASGM community in Peru to a mercury-free model.
The Chichiqueros work in an area of Peru's rainforest that was placed under a state of emergency in 2016 due to uncontrolled mercury contamination. With support from Brilliant Earth, Pure Earth worked with the Chichiquero Mining Association, which consists of 400 miners, who often work alongside family, to train its members in mercury-free techniques.
The word Chichiquero comes from the word "chiquito," meaning tiny. It is said that these miners are known as Chichiqueros because they make a big sacrifice for a small reward: they unwittingly poison their families and contaminate their communities with mercury just to extract a minute return of gold.
After the first training session, attended by more than 40 Chichiquero miners, news spread by word-of-mouth and a local radio interview with the Association president. As a result, many miners not affiliated with the Chichiquero Association began requesting training, too, including the Maqque family, who live and work in remote La Isla.
Located in Madre de Dios, La Isla has suffered so much deforestation due to gold mining that it looks like an island in the middle of the rainforest, hence the name. The area had been scraped bare by larger mining operations, and artisanal and small-scale gold miners like the Maqque family make a living by finding the small bits of gold left behind. Now, with Pure Earth training, the family is working together safely, without mercury.
Fulfilling an Obligation to the Rainforest: Reforestation and Mercury-Free Certification
Building on nearly four years of collaboration with Pure Earth, the Brilliant Earth Foundation recently announced a new $300,000 grant to Pure Earth in support of a four-year project in Madre de Dios. The grant will enable Pure Earth and partner, the Alliance for Responsible Mining (ARM), to continue work with AMATAF, an ASGM mining association. The work will include training and transitioning miners to mercury-free techniques, training miners to rehabilitate mining-damaged land through reforestation, and guiding AMATAF through the process of becoming Fairmined certified and to produce Fairmined Ecological Gold. [1]
It is imperative that miners be fairly remunerated for their mercury-free mining and reforestation efforts, as well as incentivized to continue these responsible practices into the future. Miners call it "fulfilling their obligation to the rainforest." Companies which have made a commitment to buy responsible and/or Fairmined Gold have an important role to play, both through educating their clients and by providing viable market options for the gold produced by AMATAF and other responsible ASGM miners using mercury-free mining techniques.
Beth Gerstein, CEO of Brilliant Earth, an RJC member, is always seeking innovative ways to model responsible sourcing practices for the industry. "As a proud Fairmined licensed brand, Brilliant Earth is excited to create a direct connection between our contributions to Pure Earth's programs and our Fairmined products. Through this Eco-Fairmined certification, we will be able to facilitate AMATAF's direct access to Brilliant Earth customers and send a clear message that responsible mining investments and social and environmental protections are important to everyone" says Gerstein. "Brilliant Earth customers will be able to support AMATAF's journey of reforestation and responsible mercury-free mining practices by wearing a piece crafted from AMATAF Eco-Fairmined gold."
We are all connected
Pure Earth works worldwide—from Indonesia to Mongolia to Peru—to train ASGM miners to go mercury free. Over 1000 miners have been trained to date, with a growing waiting list of miners interested in learning the technique. In addition, Pure Earth has helped miners
restore over 10 hectares of Amazon rainforest damaged by artisanal and small-scale gold mining. Together with the jewelry industry, Pure Earth will continue to demonstrate that responsible mercury-free gold mining is not only possible but crucial for all of us, because we are all connected. Join us.
What Can Jewelers Do Now?
[1] Fairmined: Fairmined is an assurance label that certifies gold from empowered responsible artisanal and small-scale mining organizations who meet world leading standards for responsible practices. Fairmined is backed by a rigorous 3rd party certification and audit system that ensures that ASM organizations meet leading standards for responsible practices, delivering organizational and social development and environmental protection.
The Fairmined Initiative was created by Alliance for Responsible Mining (ARM). ARM facilitate the empowerment of artisanal and small-scale miners, their organization and the adoption of good practices, promoting favorable environments for the inclusion of artisanal and small-scale miners in the formal economy. They create voluntary standard systems for production and trade and support the creation of responsible supply chains. ARM has a permanent seat on the RJC Standards committee.
Article by Jen Marraccino, Senior Development Director, Pure Earth, & Magdalene Sim, Director, Communications, Pure Earth