Events
RJC aims to regularly engage with stakeholders at events throughout the year.  Current and upcoming events are listed below.
See Recent Events or Recent Webinars to download presentation slides from past RJC events and sessions.
Upcoming
---
2018 Annual General Meeting and Panel Discussion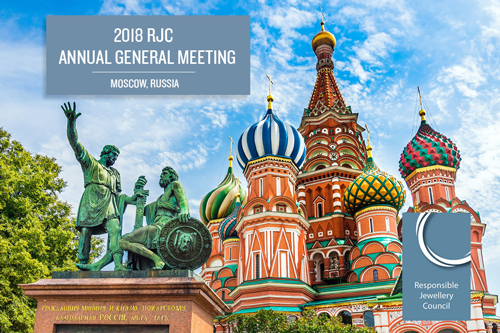 The RJC will be holding its 2018 Annual General Meeting (AGM) and an industry panel session in Moscow, on Thursday 17 May 2018. We are delighted to be hosted by RJC member, Public Joint Stock Company ALROSA. The AGM will be held at the Hotel Baltschug Kempinski, Moscow at 1:45pm MSK.
Following the AGM, RJC will host a stakeholder engagement session that is open to the jewellery industry and all interested parties. More details of the schedule for the day will be provided over the coming weeks.
RJC Board of Directors Elections 2018 (nominations and election processes) are administered by Electoral Reform Services (ERS) – you will be invited to nominate and vote.
We look forward to welcoming as many RJC members as possible at both these events.
If you have any questions regarding the AGM please visit our brand new RJC AGM website below, were you can register for this event before Tuesday 10 April 2018.
Visit the 2018 RJC AGM webite
---